Average rent in Hamilton is down but is it affordable?
Published July 13, 2021 at 8:17 pm
Across Canada, the average cost of rent is up for the second month in a row. Hamilton, however, saw a decrease in June 2021 compared to the year prior.
According to Rentals.ca's and Bullpen Research & Consulting's latest National Rent Report, Hamilton came in 21st nationally for average monthly rent in June for a one-bedroom home at $1,436 and 20th for average monthly rent for a two-bedroom at $1,772.
Year over year, the average monthly rent for a one-bedroom home in Hamilton declined 7.6 per cent in June. Average monthly rent for a two-bedroom was down 18.6 per cent.
Month over month average monthly rent was down 0.3 per cent for a one-bedroom and 6 per cent for a two-bedroom.
Overall, average rents were down 2.7 per cent month over month for all property types in Hamilton.
By general rule, it's advised that rent payments not exceed one-third of the household income; meaning the average Hamiltonian would require roughly $4,308 in monthly salary or nearly $52,000 per year for a one-bedroom rental.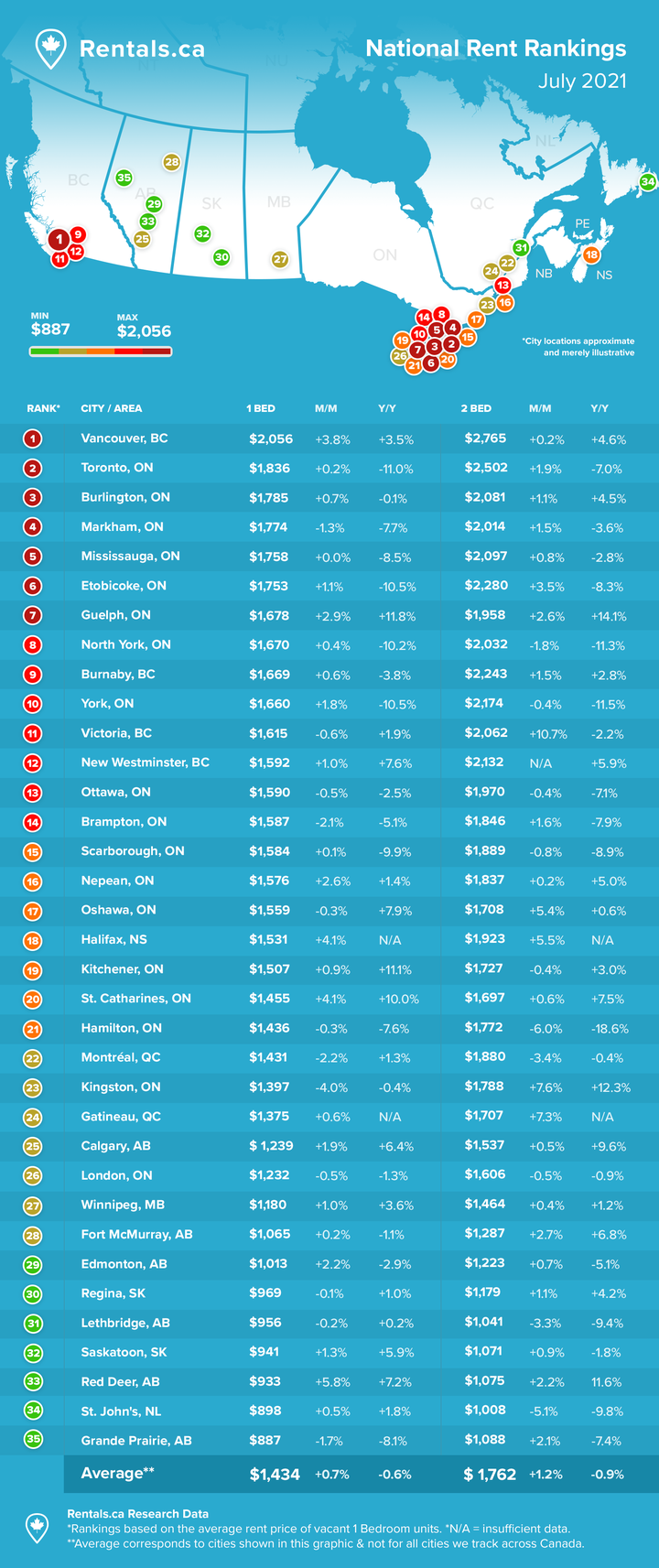 Meanwhile, the average rent in Canada increased for the second month in a row, rising to $1,721 per month after six straight months of decline.
The average asking rent for all Canadian properties listed on Rentals.ca in June grew by 0.7 per cent after rising 2 per cent month over month in May.
"As the country begins to open, tenant demand is expected to pick up, and further growth will continue for the rest of 2021," according to the report.
"Expect even larger rent increases in 2022, when most COVID restrictions are lifted, offices are open, immigration is back to pre-pandemic levels and most classrooms are in session."
On a national basis, large units continue to outpace small units in terms of rent growth as many tenants anticipate working from home longer, while others expect the move to remote work is permanent.
The single-family rental market remains strong and apartment rents are now above pre-pandemic levels.
The average rent for condos has started to turn up but remains below peak levels as the high-end downtown markets have yet to fully recover.
Single-family homes have experienced the sharpest increase in average monthly rent since the start of 2021, from $2,214 per month to $2,553 per month, up 15 per cent.
On an annual basis, the average rent in June for single-family homes is up 5.5 per cent over June 2020.
The average monthly rental rate for condo and rental apartments has also experienced increases since the start of 2021, but to a lesser extent than single-family homes.
Condo apartments moved from $1,983 per month in January up to $2,032 per month in June (plus 2.5 per cent), but are still down 8.3 per cent year over year.
On an annual basis, the average monthly rent for apartments is up 3.1 per cent over June of 2020.
insauga's Editorial Standards and Policies
Stay the know
Subscribe now to receive our daily email of today's top stories in your city!
advertising