Snowbirds flights rescheduled for today after being postponed due to snow
Ontario residents may want to look up to the skies for a special sight this afternoon.
In a unique mission dubbed "Operation Inspiration", the Canadian Forces Snowbirds have been flying across the country to salute Canadians doing their part during the ongoing COVID-19 pandemic.
"The team's signature nine-jet formation, with trailing white smoke, will fly over cities across the country starting in Nova Scotia this weekend and working west throughout the week," said the Royal Canadian Air Force on April 29.
While today's routes were originally scheduled for Saturday, May 9, they had to be pushed back a day due to the unforeseen snow and hail.
SUNDAY: Let's try this again, shall we? #opinspiration #cfsnowbirds #rcaf pic.twitter.com/m2z9xZFyad

— CF Snowbirds (@CFSnowbirds) May 10, 2020
Today (Sunday, May 10), we'll see the Snowbirds on multiple routes in Ontario, including an hour-long route at 12:45 p.m. that goes from Mississauga to London via Niagara Falls, passing directly over Halton and Hamilton.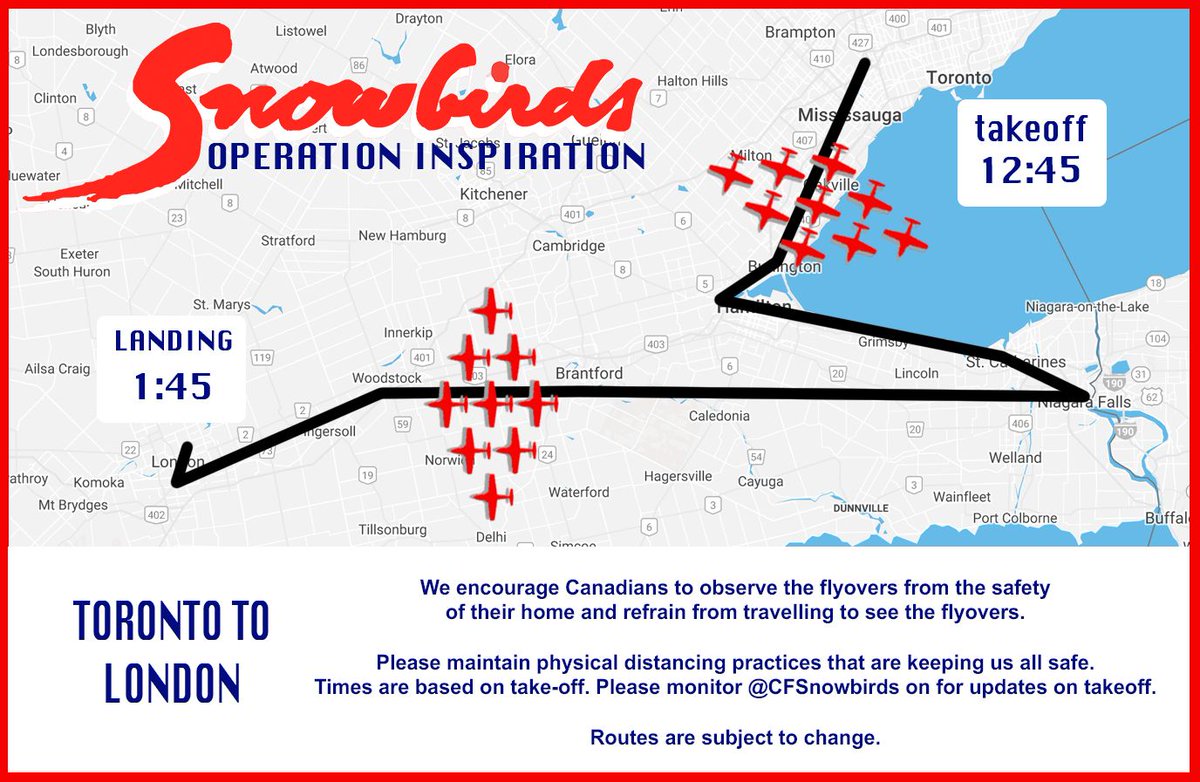 Following the flight to London, the team will then flypast Stratford, Kitchener, Cambridge, Guelph, Collingwood and Barrie in the evening.
"We encourage Canadians to observe the flyovers from the safety of their home and refrain from travelling to see the flyovers," the Snowbirds said.
Those who want to follow the Snowbirds on their journey are encouraged to follow their Facebook and Twitter pages for updates on take-offs.
Photo courtesy of Canadian Forces Snowbirds on Twitter