New condo development breaks ground near Square One in Mississauga
in
The condo development game never stops in Mississauga, which recently saw another new condo project break ground fairly close to Square One.
The Kaneff Group of Companies has started to build its Keystone condo development, a two-tower and 406-unit project located near the intersection of Burhamthorpe and Central Parkway East.
The groundbreaking was attended by Mayor Bonnie Crombie, former Mayor Hazel McCallion, and Councillor John Kovac, REMI Network reports.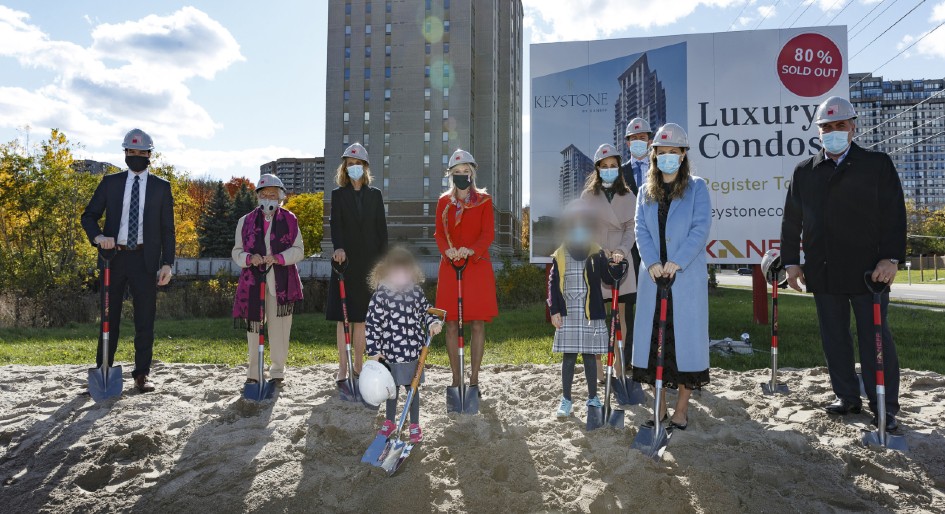 Photo via REMI Network
So what will Keystone look like when it's complete?
The towers will rise to 20 and 23 storeys respectively, with an integrated podium connecting them, a rooftop patio, and a swimming pool.
Other planned features include a colourfully designed kids zone with an arts and crafts area, reading pods, interactive tables and an integrated outdoor play area, as well as a wellness area featuring fitness equipment, a complete yoga studio, and space for personal training.
The exterior and interior amenities are reportedly designed to "complement the sophisticated and versatile lifestyle of homeowners."
At this time, roughly 80% of Keystone's units are already sold out.
More information and virtual tours are available at keystonecondos.ca.
Cover image courtesy of Keystone Condos