Former Mississauga Councillor Becomes New Peel Regional Chair
Published December 6, 2018 at 10:03 pm
The selection of the new Peel Regional Chair, in the end, came down as a rather uneventful process as regional councillors selected a recently retired colleague over an experienced former provincial minister as the new head of their council.
Former Mississauga Ward 7 councillor Nando Iannicca was picked to be the fifth Regional Chair of Peel in a vote of 15 to 9 on the first ballot at the inaugural meeting on Thursday, December 6.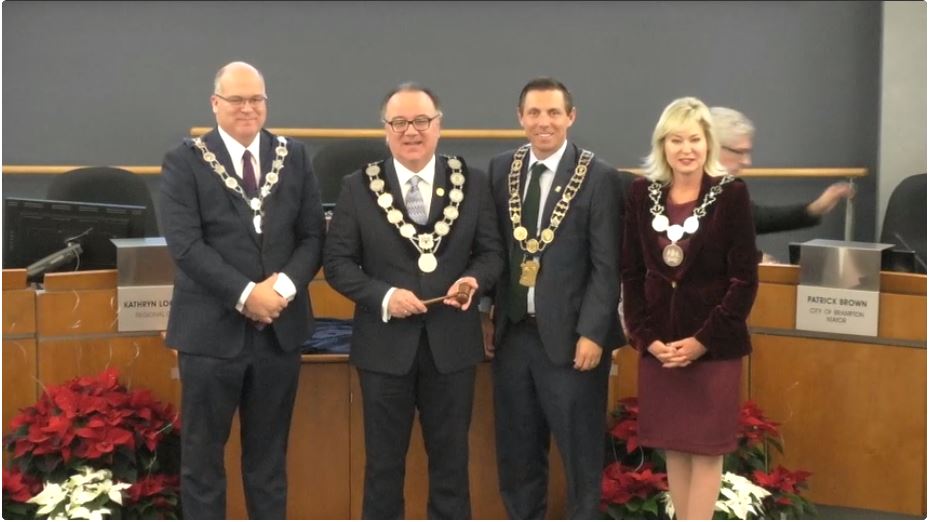 Photo courtesy of Twitter / @Caledon_Mayor
Iannicca and former Liberal cabinet minister Charles Sousa were the only two candidates to put their names forward, despite earlier reports of a varied list that included former Brampton mayor Linda Jeffrey.
Former councillor Nando Iannicca and Charles Sousa sitting next to each other at Peel Regional Council
Iannicca recently ended a 30 year stint as Mississauga Ward 7 councillor; Sousa was defeated as MPP for Mississauga Lakeshore in the June provincial election.
---
The first round of voting broke down as follows. A candidate needed 13 votes to win:
For Iannicca (15 votes):
Mississauga: Mayor Bonnie Crombie, Coun. Dipika Damerla, Coun. Chris Fonseca, Coun. John Kovac, Coun. Sue McFadden, Coun. Matt Mahoney, Coun. Karen Ras and Coun. Stephen Dasko.
Brampton: Coun. Gurpreet Dhillon, Coun. Pat Fortini, Coun. Martin Medeiros, Coun. Rowena Santos and Coun. Paul Vicente.
Caledon: Coun. Annette Groves and Coun. Ian Sinclair.
---
For Sousa (9 votes):
Mississauga: Coun. George Carlson, Coun. Carolyn Parrish, Coun. Pat Saito and Coun. Ron Starr.
Brampton: Mayor Patrick Brown and Coun. Michael Palleschi.
Caledon: Mayor Allan Thompson, Coun. Johanna Downey and Coun. Jennifer Innes.
---
Sousa was nominated by Brown while Iannicca was nominated by Crombie. "He has the unique experience of having worked on every file there is, and with Nando there is no learning curve," Crombie said.
"I've been told I'm a pretty good ambassador for the Region," Iannicca said in his pitch.
As for Sousa, despite having been on different sides at Queen's Park, the former PC leader had complimentary words for Sousa, citing his experience in the private sector and 11 years in politics.
Despite being in a partisan environment, Sousa said he was able to be a consensus builder and he could do the same in Peel. "I'm asking for the privilege to work with you…and to have some fun."
For the next four years, however, it looks like Iannicca would be the 'one having fun' as the head of an organization of 3,000 employees and responsible for $11 billion worth of assets. The new chair cited policing, a growth plan and a green plan as his top priorities.
"The Region of Peel is a very special institution. What we do, we do well. We are so well-positioned for the future," said Iannicca after the appointment. "I look forward to working together with Regional Council to ensure that we respond to the needs of Peel region in these challenging times."
---
Final Thoughts
This year's selection for chair was remarkable smoother than four years ago, when there were around five candidates in the running with several ballots counted before someone emerged with a majority of votes. At least this time with Iannicca's selection, it's not going to lead to a municipal by-election to fill a councillor's seat.
Another surprise is that there were no Brampton candidates in the running. Both Iannicca and Sousa hailed from Mississauga, and there was word that besides Jeffrey, former Brampton councillors Elaine Moore and Gael Miles were planning to put their name forward. The chance to have the first female chair, or one from Brampton, did not materialize.
Developers in the region are probably celebrating as well. The veteran councillor was seen, by many, as more friendly to their line of work in bringing in more development in Mississauga and the region over the years. By contrast, Sousa was part of a government that championed the GTA Greenbelt, which many in the development industry viewed as hindering their ability to build more housing.
Finally there is one other concern for those who follow municipal politics or work in the local government sector: the review of regional governance that the Ford government is undertaking. Ford cancelled the initial regional chair election which led to this appointment process, and there's talk that regional government might not exist in its current form even before the end of Ford's four year mandate.
These sure are some interesting times ahead in local politics in Brampton, Mississauga and Caledon.
insauga's Editorial Standards and Policies
advertising