Brampton currently has the 17th highest rent in Canada
Published March 14, 2023 at 10:47 am
As of March 2023, Brampton is in the top 20 Canadian cities for highest rent.
According to the March 2023 national rent report from Rentals.ca, Brampton is ranked 17th out of 35 cities, with an average rent of $1,867 for one-bedroom units and $2,310 for two-bedroom units.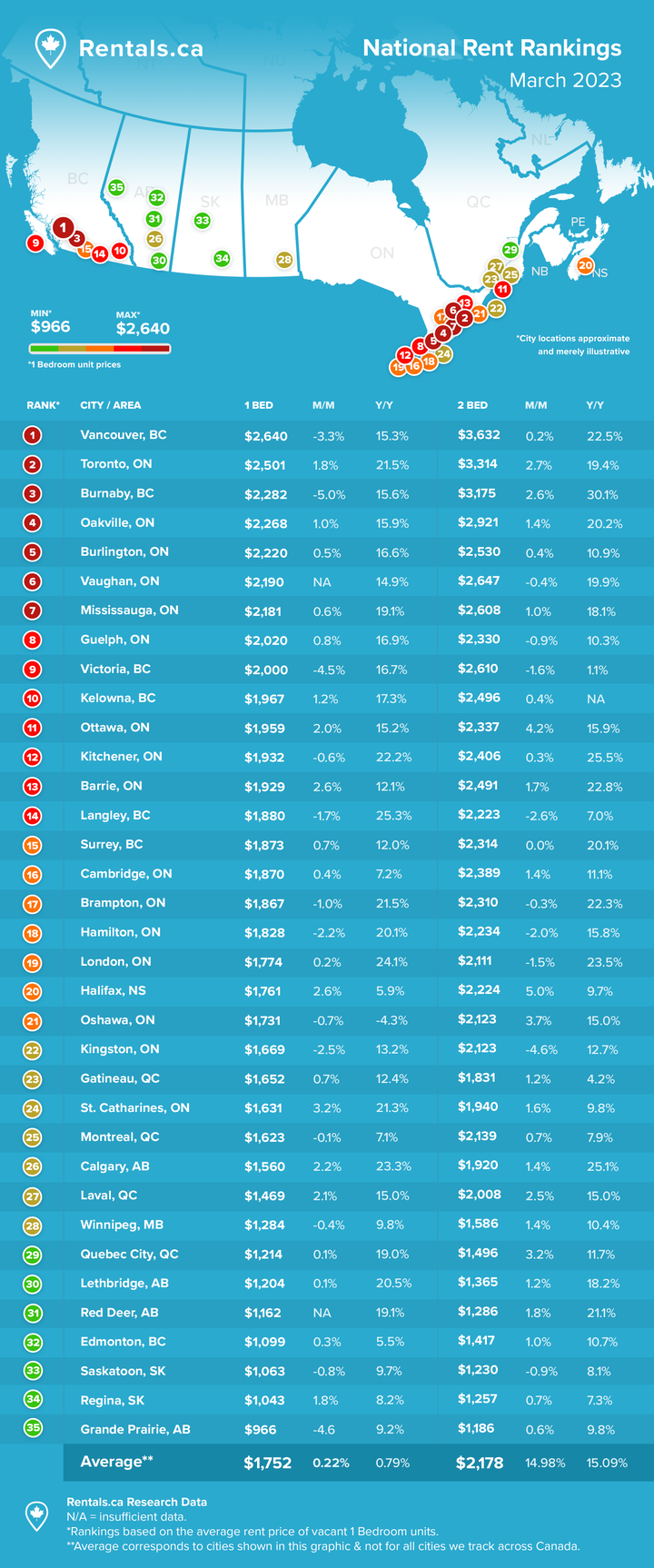 The report says that while asking rents in Canada increased 9.7% annually to an average of $1,984 in February, they decreased 2% over the past three months, "indicating some softening in the market related to reduced affordability in the rental market, a recent improvement in home-buying demand, and an increase in new supply from apartment completions."
Brampton was also the fastest growing mid-sized city for purpose-built and condominium rents in February, leading by an increase of 30.1% for an average of $2,521.
The city is followed closely by Kitchener (+28.2%), then Scarborough (+28.1%), North York (+26.5%), London (+23.1%), Hamilton (+22%) and Mississauga (+18.9%).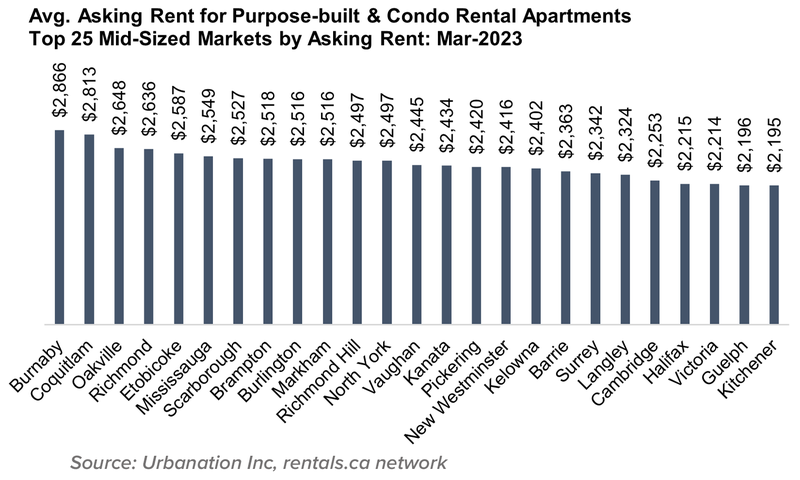 The province overall has the second highest rent prices in Canada with an average of $2,407, second only to BC with an average rent of $2,449.
Rentals.ca says the data used in this report is based on monthly listings from the Rentals.ca Network of Internet Listings Services (ILS), which covers both the primary and secondary rental markets and includes basement apartments, rental apartments, condominium apartments, townhouses, semi-detached houses, and single-detached houses.
The full report can be read here.
High rents and home prices are among the reasons Peel Region is calling on the province to start delivering more affordable housing and end the homelessness crisis affecting Mississauga, Brampton and other Ontario cities.
According to the Region, the affordable housing crisis in Peel has presented itself in multiple ways:
Shelter use increased by 26.9 per cent in 2021
50 per cent of demand for people who need supportive housing continues to go unmet
An estimated 91,000 households are in core housing need
An average-income family would have to save a down payment over 30 years for an affordable monthly mortgage at today's home prices
The Association of Municipalities of Ontario (AMO), a non-profit organization representing almost all of Ontario's 444 municipal governments, says the homelessness crisis in Ontario is a result of decades of provincial underinvestment in areas such as affordable housing, community mental health, and income assistance programs.
"Homelessness is a social, economic, and health crisis and clearly, urgent action is needed," said Regional Councillor and AMO Board member Paul Vicente.
Data and graphics courtesy of Rentals.ca
insauga's Editorial Standards and Policies
advertising