An extremely rare lunar eclipse will soon be visible in Mississauga and Brampton
Published November 13, 2021 at 2:36 pm
Keep your eyes on the sky — an extremely rare lunar eclipse will be visible in the skies across Canada this week.
On the night of Nov. 18 to 19, the full moon will pass through Earth's shadow, resulting in a rare "nearly total" lunar eclipse that hasn't been seen in over 500 years, according to The Weather Network.
The eclipse begins at just after 1 a.m. This rare event will give the moon a red appearance as it partly dips into the dusky red umbra of Earth's shadow.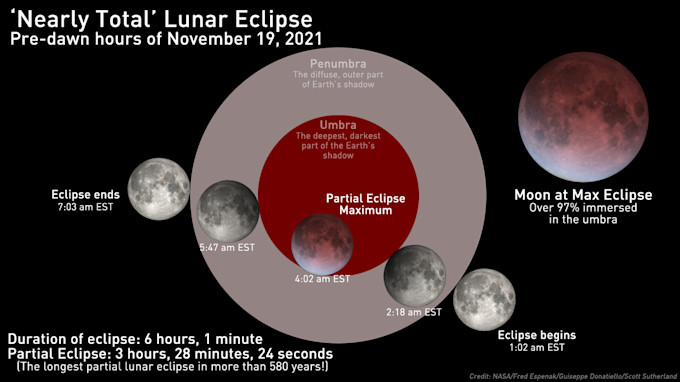 "What's particularly remarkable about this eclipse is that it's one of the rarest," says the Weather Network.
"At its peak, which occurs at just after 4 a.m. EDT on the 19th, the Moon will just barely miss out on being a total lunar eclipse. Instead, just over 2 per cent of the Moon — in a thin sliver near the south pole — will remain in the penumbra."
NASA's records indicate the partial phase of this eclipse will last 208 minutes (3 hours, 28 minutes, and 24 seconds) — one of the longest partial lunar eclipses ever seen.
The last longest "nearly total" lunar eclipse was over 581 years ago, on February 18, 1440, when there was a partial lunar eclipse that spent 3 hours, 28 minutes, and 48 seconds in the umbra.
If you're excited for this rare sight, make sure not to miss it — the next time a longer partial eclipse occurs will be nearly 648 years from now, on February 8, 2669.
insauga's Editorial Standards and Policies
advertising
advertising